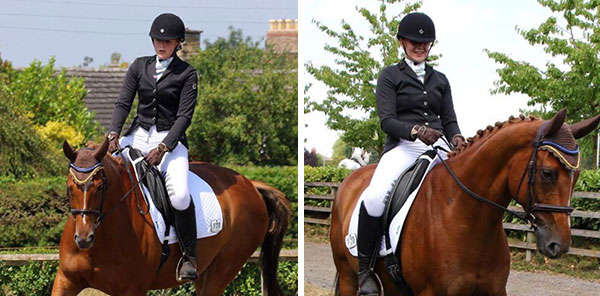 Based in West Yorkshire and currently studying Equine Management at Askham Bryan College 17 year old Victoria has been riding for about 7 year and started at riding school and pony club helping out at weekend before getting her first horse, who she outgrew (who she schools occasionally).
Victoria currently rides her 8 year old family owned gelding Endeavor, (stable name Roo) who she has ridden and brought on since he came into her life nearly 4 years ago. A 17'2 Chestnut Thoroughbred with a big heart who can be a big softy who loves to play but also loves to compete. Originally bought to jump, but after a jumping accident Victoria turned her focus to Dressage and has never looked back. Competing at prelim and novice levels they have competed this year at the sheepgate u25 championships and have qualified for the Kent and Masters MyQuest regionals for the second year running – this time at novice as well.
Unfortunately Roo had most of 2017 off due to illness so 2018 was focussed on his rehab – qualifications were an added bonus is now back fighting fit and hopefully they will be out more during 2019!
Roony loves his Bizzy Ball – it has kept him amused on the days he was in and he takes it with him on long events. The Bizzy Licks last so much longer than others we have tried – and more importantly being a thoroughbred don't make him fizzy!